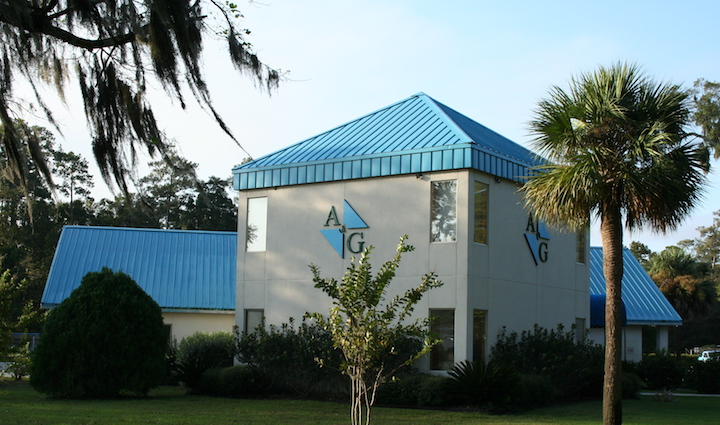 Allen & Graham Inc. focuses on building long-term relationships with clients by delivering high-quality results on schedule. 
Allen & Graham Inc. thrives on the tough industrial jobs that require high-quality, strict safety requirements and demanding construction schedules. "Quality and safety have to be there, but the tight schedules are where we thrive," Vice President Christopher Allen says. "We mostly work on jobs that no one else wants to do – the harder and more complicated the job the better."
Allen's father, Phil Allen, co-founded the Brunswick, Ga.-based general contracting company in 1985 with an unparalleled client-focused approach. "We have long-term relationships with industrial clients; mostly in the pulp and paper, energy and port/marine industries," Allen notes. "About 95 percent of our work comes from repeat clients. We deliver a quality job safely and on-time and they keep letting us come back."
Allen & Graham self-performs about 75 percent of its volume, which allows it to have greater control over the schedule and quality, resulting in more successful projects. The company only subcontracts electrical, HVAC and some specialty trades. "We have a strong following of subcontractors because we manage the sequence of work and schedule so that everyone involved is efficient," Allen says. "We have qualified, well-trained workers for all trades."
A majority of Allen & Graham's work is based in southern Georgia and north Florida, but the company has also completed projects in both North and South Carolina. The company employs between 100 and 150 people who contribute daily to its success.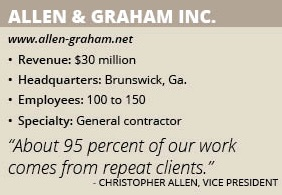 Allen & Graham's project management staff consists of engineers and graduate construction managers, most of whom have worked a long time with the company. Supervisors are well experienced in multiple trades and understand the importance of safe work practices, proper field administration and client's difficult schedules and requirements. "We are a small company, but take care of our clients and have a good time doing it," Allen says. "We have a family type atmosphere here. We have more than 20 employees who have worked here for over 20 years with second- and third-generation employees coming up now, including myself."
Reliable Performance
Allen & Graham's construction services include design/build, heavy and commercial concrete, pile driving, steel erection, process pipe installation, equipment installation and wastewater plant construction or rehabilitation. The company believes in taking its growth slow and steady, focusing more on taking good care of existing clients than chasing after new ones.
One of Allen & Graham's tightest scheduled projects was the Wood Pellet Bulk Storage Warehouse. In July 2015, a fire devastated two of Logistec Corp.'s bulk storage warehouses containing wood pellets at a port in Brunswick. The disaster created the immediate need for a replacement facility. Allen & Graham was awarded the design/build contractor for the #4 Terminal Bulk Shed project to complete in eight months.
The warehouses store 50,000 tons of wood pellets which are loaded onto ships and transported to European countries to be used as fuel for power. "Every day without sufficient storage capacity was costing the client significant lost revenue, so the completion time was crucial," Allen says. "To meet the client's demands, the design and construction of a new 80-foot-tall, 140,00-square-foot warehouse were performed simultaneously."
The project included a metal building, concrete containment walls, a pile-supported containment wall, complex conveyor systems, a dust collection system and various fire prevention systems. During the project, over 100,000 man-hours were worked with no accidents. Allen & Graham prides itself on maintain its safety program and its .71 EMR. The project was awarded the 2016 AGC Build Georgia Award.
After the completion of the Wood Pellet Bulk Storage Warehouse in 2016, Allen & Graham has taken on more design/build projects to adapt with market changes and clients who want turnkey service.
Plant Vogtle Nuclear Power Facility 
Allen & Graham constructed the water intake structure on the Savannah River for Plant Vogtle Nuclear Power Facility units 3 and 4. These are the first nuclear reactors constructed in the United States in more than 30 years, the company says.
The intake structure consists of more than 10,000 cubic yards of concrete and is divided into nine bays with three-foot-thick walls extending 40 feet high. The top of the structure is three-foot-thick elevated slab with complex block-outs and embeds for drainage and equipment. "It's just a beast of a job; heavy concrete, heavy rebar in an extremely tough environment," Allen says. "The rebar was so thick we had to use a special self-consolidating concrete mix."
The 115,000 man-hours worked resulted in zero OSHA recordable incidents. "Every person on the job had two weeks of training or more, making sure everyone is certified and documented," Allen notes. "We do site specific training with toolbox talks and safety training on a monthly basis focused on different topics."
Moving forward, Allen & Graham plans to stay the path of slow and steady growth by taking on the tough jobs and exceeding its clients' expectations.