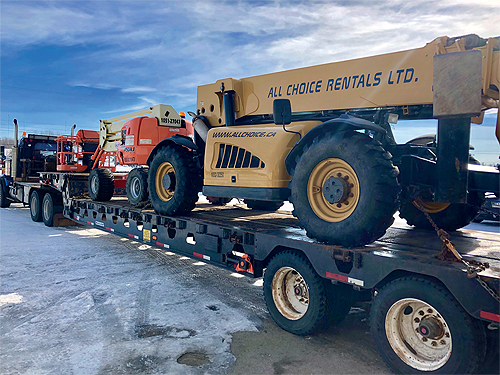 Around the clock rentals
By offering reliable equipment from its diverse rental fleet at a competitive price, All Choice Rentals ensures that its customers stay on time and on budget
With a population of just over 7000 inhabitants, the rural town of Drayton Valley in central Alberta, Canada, sits between the North Saskatchewan River and the Pembina River, and is surrounded by Brazeau County, which is known for its vast oil fields. In Drayton Valley, oil and gas is the primary economic driver, while agriculture and forestry also play steady more important roles in the local economy. It is also here that, in 2009, All Choice Rental (ACR) began life as a small rental shop servicing the aforementioned industries.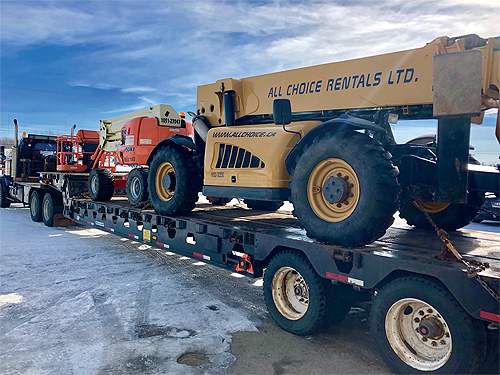 Move the clock forward to 2021, and ACR has grown to become an award-winning, full service equipment rental company, operating out of three locations in West Central Alberta – Drayton Valley, Hinton and Rocky Mountain House – and with a fleet of trucks that allows for the movement of equipment around the region. "We are very much a one-stop rental shop, serving customers with virtually all of the equipment they need," explains ACR President, Michael Doerksen.
Among the extensive list of items that the company provides, one will find aerial equipment, compaction equipment, concrete and masonry tools, excavators, fences, heaters and fans, lighting equipment, power generation, portable toilets and wash cars, skid steers, trailers, and scaffolding and ladders. "What our customers have come to recognize is that they have the peace of mind of knowing that, when they are on a project, they can call ACR at any time, and that we will be here to do the necessary legwork for them to secure the right equipment, tools or solutions that they need to get the job done," Michael continues. "We have built up a number of industry partnerships and established a strong network of contacts which has helped us to understand exactly what equipment is out there in the market, and how this will be of benefit to end users. For our customers, they know that this means they don't have to spend hours calling around to source a particular item or solution, instead they can just call ACR and we mwill do the rest!"
It is this level of dedicated customer service that really differentiates the company. "Our phones are literally switched on 24/7, meaning we can service our customers around the clock," Michael states. "Working in rural Alberta, things are heavily influenced by the oil and gas industry, which itself operates 24/7, which is why we too are committed to being there for our customers day and night. This allows us to deliver the equipment they need, when they need it most."
As recently as five years ago, some 80 per cent of ACR's work came from customers operating in the oil and gas industry. This corresponded to the high oil prices of the time. When prices subsequently fell, the company knew that it needed to diversify its portfolio in order to draw in business from other sectors. "At the time, we specialized a lot more in power generation, which we serviced through a large fleet of generators that went out regularly to drilling rigs, well sites and so forth," Michael details. "With the collapse in energy prices, we quickly realized that we needed to diversify the business, so we set about selling off around 90 per cent of our power generation assets. We then invested in specialty equipment like aerial solutions, boom lifts, compaction skips and excavators, which we saw as being in particular demand amongst farmers, ranchers and contractors in the area. It also meant that in a growing municipality where schools and hospitals are being built, and general housing infrastructure work continues at pace, we had a much stronger rental fleet to serve those markets. At the same time, we also doubled down on things like portable toilets and waste management solutions, which helped to create that one-stop rental shop we speak of today."
In the last several years, ACR has been steadily growing as an organization. Back in 2019, it moved into its Hinton site, and has designs on further expansion in the months ahead. It has also continued to diversify its offering, this time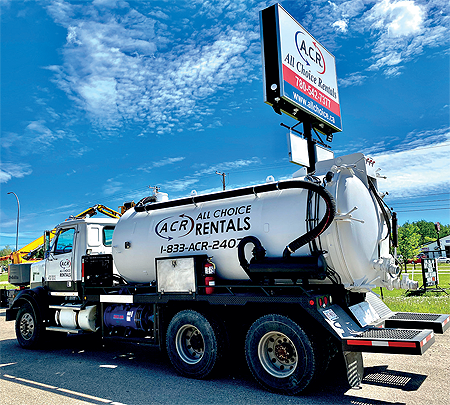 through the purchasing of a 50 per cent share in the company Independent Energy Solutions (IES). "A stand-alone business that is also based out of Rocky Mountain House, IES specializes in the manufacture of electric light and solar light towers," Michael adds. "Our decision to buy into the business comes as a result of looking at where the future is headed in terms of solar electric power, and the projected increase in demand for cleaner ways of producing light on work sites going forward. IES is a highly innovative company, doing things with clean power than no one else is right now, which makes it a very exciting proposition for ACR."
Considering the challenging year for everyone that was 2020, Michael is pleased to note that in the circumstances ACR considers it to have been a successful time for the business. While active projects may have slowed down for a period of time, this gave it the chance to look inwards at how it operates itself, identify efficiencies and drive improvements in the way it serves its customers. This has put ACR is good stead for 2021, which Michael sees as being the year that the company begins expanding its footprint once more.
"We are lined up to have a very successful 2021," he declares. "We see opportunities and projects out there in the market that could ultimately see ACR double in size, which makes this year one of the most exciting that I can recall in the last decade. Collectively, all of us at ACR have big dreams for the business, and we feel that the sky really is the limit for us. There is a lot of work still to be done, we know, but we definitely have the ambition and drive to turn this business into one that is a real player in the rental industry, not just in Alberta, but throughout Canada."
All Choice Rentals
www.allchoice.ca
Services: Equipment rentals