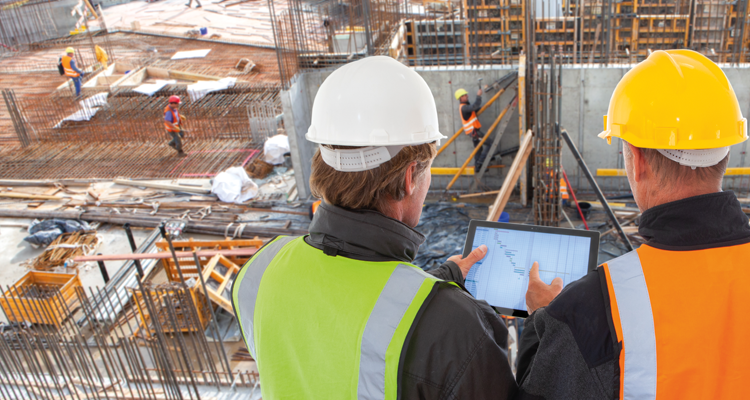 Alex Caesari sits down with Lawrence Smith to discuss the uptake of new technology within the construction space 
Lawrence Smith has been in the construction industry for a long time, and it has taken him all over the world. When I sit down with him to discuss the current issues facing the sector, the first thing I am hit with is his curious accent. It sounds like a blend of English and Australian, with the occasional US twang.
"I'm a Bristol boy!" Lawrence reveals, although he's far from the Southwest of England now. "That's right," he says, "I've probably lived over half of my life outside of the UK, first moving abroad to Germany when I was 27. I was there for around five years, fully immersing myself in the culture and speaking the language every day.
"By the time I'd left, my friends and colleagues were already picking up on the strange Euro-mix accent I had started to adopt," Lawrence recalls. "Then I moved to the US, and I've been here ever since, starting in Ohio and then moving to Colorado."
His backstory reflects the breadth of work he has carried out for Trimble, an industrial technology company transforming the construction industry with cutting-edge software solutions that enable customers to enhance their practices and form a more unified business strategy.
Now clocking up his third relocation with the firm, Lawrence began at Trimble nearly 24 years ago as Product Manager. In the ensuing decades, he worked in a variety of roles, and now serves as Vice President and General Manager, Construction Management Solutions (Viewpoint and MEP). A mouthful, he admits, but it shows the incredible trajectory he's experienced at the American industrial software leader.
In the years prior to his appointment at Trimble, Lawrence worked for companies that were acquired by the tech giant, so it's safe to say, he knows a thing or two about the convergence between construction and technology.
Speaking of the latter, I'm curious to understand the Viewpoint and MEP aspect of his title, as they sound like proprietary items of technology. "Yes," Lawrence answers with a wide smile. Indeed, he admits he's always been fascinated with construction, watching buildings being slowly assembled and erected, the complexity of each individual project. In this way, he believes Trimble's ancillary work is "a noble cause."
"Viewpoint is part of the Trimble business centered around ERP, or Enterprise Resource Planning, and operational management," he circles back. "Whereas our MEP business is twinned with our General Contracting (GC) pre-construction business, offering myriad construction management solutions."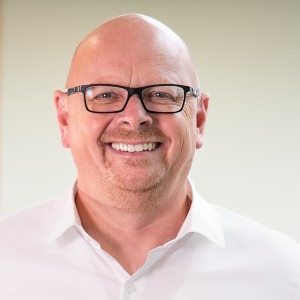 Impacting industry 
A career such as Lawrence's provides a unique insight into the state of the construction industry, its history of technological intervention, and the efficacy and accessibility of digitization and software solutions.
"It's been a pleasure and a privilege to watch that change and witness the adoption of nascent technology, including some of Trimble's own software, and the impacts it has had on the industry," he says.
"There have been some really exciting pieces of tech that have come out along the way, and you can quite clearly see the difference they've created within the marketplace. One particularly close to my heart was the use of robotic tool stations and layout technologies, taking design information and having that accurately positioned out in the field via a 3D model.
"It had a tremendous impact on the industry and continues to do so today. My career has proffered a valuable vantage point from which I can observe and understand how technology not only plays a part in the construction sector, but also how companies can benefit from its adoption."
Transformative technology 
Certain eras will undoubtedly represent a marked leap forward in technology, but progress often brings about its own set of challenges.
"Sure, we've seen expansion over the last decade and a half," admits Lawrence, "but in among all that, there has been the primary issue of manpower, which was undoubtedly exacerbated by the pandemic.
"There is this new sense of pressure within construction, where many companies are struggling to build a workforce that can keep up with the demand," he reveals. "At the same time, we're also seeing older and more experienced tradespeople leaving construction for either health reasons or through retirement, itself brought forward by Covid-19.
"Every company that I have interacted with over the past few years shares this common concern: attaining and retaining skilled labor. Consequently, our Viewpoint product line has evolved, and we are helping firms rapidly onboard personnel so that they're ready to go. Indeed, with Trimble's support, construction businesses can now deploy tradespeople more efficiently, ensuring they're sent to the right projects and in the right quantity."
In theory, adopting technology to mitigate labor shortages should happen without a hitch. But, as with most things, it's not so straightforward. Supply chain chokeholds, such as restricted access to components, and high rates of inflation have delayed technology's deployment and incurred additional industry challenges.
Though Lawrence acknowledges those supply issues are now easing, they're still not back to pre-pandemic levels. "It's been really challenging for companies in the sense that, although the technology exists, they haven't necessarily got the ability to leverage it," he notes. "For us, that's been a giant call to action; immediately, we wanted to introduce ourselves to companies and say, 'This is how we can help.'
"That informed our rationale and strategy surrounding Trimble Construction One, a proprietary software and cloud-based construction management technology platform that can drive productivity by delivering workflows across every aspect of a company," he goes on.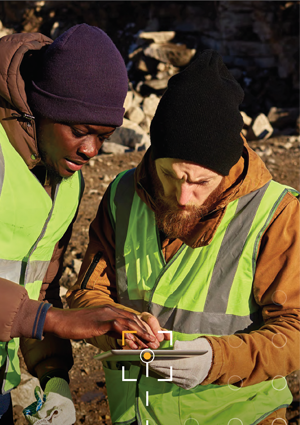 "We have an impressive ability to unlock and transport data, effectively democratizing it, so that more firms – whether they're a $500 million-a-year GC or a small, independent business – can access data to use it to improve processes, increase cross-company communication, and deliver a greater return on investment (ROI)."
Automation, technology, robotics – much of our conversation has revolved around aspects of construction that require less physical human involvement, which is ironic considering the primary issue of our current era: labor shortages.
"Interestingly," he concludes, "we have strong relationships with many unions and associations within the contracting space. In fact, they've been prominent champions of the adoption of new technologies. Their own training classes, for instance, will help educate workers on the kind of technology that is available up and down the industry.
"Whether its machine automation or pre-construction tools, I see a lot of willingness to adopt new software. At Trimble, our job is to partner with companies that trust us to facilitate enhanced efficiencies. We also want to enlighten others on the possibilities afforded by platforms such as Trimble Construction One. That is what we do; that is our calling."