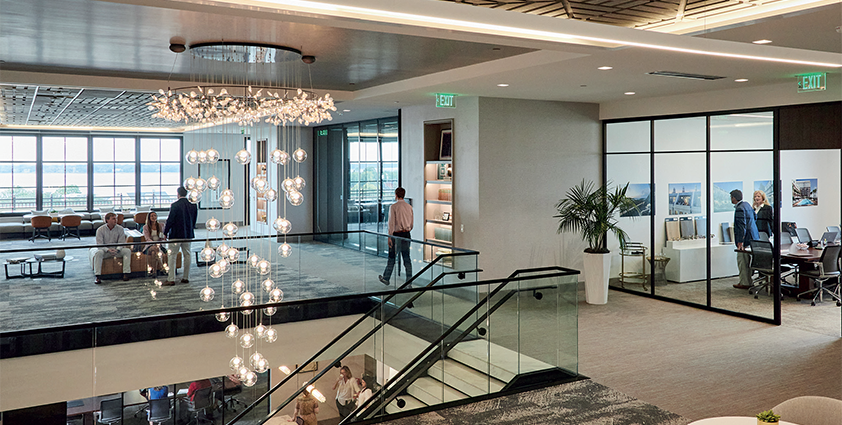 For Senior Vice President of Development and Chief Operating Officer, Dan Doyle, who has over 25 years of real estate industry experience under his belt, trends in multifamily development have significantly altered the way he views traditional amenities and resident expectations.
The pandemic changed the kinds of amenities that multifamily tenants are looking for and developers are now tasked with finding ways to adapt their new and pre-existing facilities to satisfy the market's needs. The ways in which people shop, travel and work are affecting how they reside, so features like co-working office spaces, boutique fitness centers, rooftop decks and package lockers are trickling down into the design and construction of multifamily housing communities.
Here are three examples of how developers are adapting in this changing landscape and creating multifunctional spaces that work for today's and tomorrow's residents.
1 – Introducing a Third-Party Operator or Promotional Partner
Multifamily developers are seeking the services of third-party operators or promotional partners to create a unique amenity package that differentiates a property from its competition and expands the footprint of a space. Residents will see this more in developments that don't already have true commercial offerings or extra indoor and outdoor space.
Not only does this partnership provide additional revenue for the development, but it enhances the customer experience. The third-party operator that is making their livelihood off that product or service is more invested in delivering a high-quality product than a developer would be because they aren't in the fitness world or the restaurant business. Therefore, the community has the latest and greatest operators in-house who can anticipate industry trends and the needs of its residents and customers in real-time.
For example: A developer could establish a partnership with a local roasting company, that provides equipment and coffee grounds for residents to make their own cup of joe, to increase their marketing visibility, or they could lease a portion of the clubhouse to a small coffee shop and sandwich cafe that is open to the public. Another example of this is introducing a co-working operation, such as WeWork, into the business centers and common areas, which can either be open to the public to use for a fee or available as an amenity for residents-only.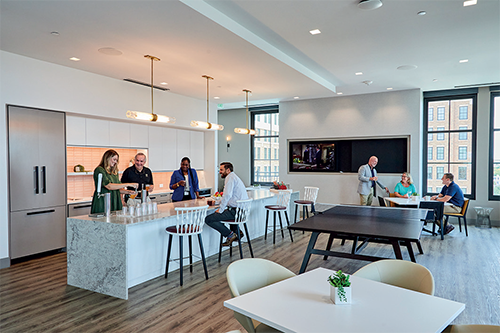 2 – Retail as an Amenity
Multifamily property owners are seeking to add retail spaces to developments that are curated to best serve their tenants and neighborhoods.
Amenities paired with the retail offerings are not only convenient but also provide an advantage over apartments and condos built only for residential purposes only, because mixed-use projects create a sense of community for residents. This is a mutually beneficial venture since it not only creates revenue for the development, but retail owners typically find great success with mixed-use communities, due to the onsite resident population and heavy foot traffic.
As part of The Beach Co.'s Cardinal Crossing development in the Forest Acres suburb of Columbia, S.C., more than 42,000 square feet of ground-floor commercial space serves the residents of Cardinal Apartments and the Forest Acres neighborhood. Close to downtown Columbia the retail space is an ideal location for restaurateurs, creative office users and neighborhood-serving retailers. Current tenants include Poogan's Southern Kitchen, Cycle Bar, Bad Daddy's Burger Bar, Club Pilates, Aria Nail Spa and Nothing Bundt Cakes.
3 – Prioritizing Luxury Amenities
Since the beginning of the pandemic, residents are spending more time at home than ever before and seeking high-quality amenities that complement their adjusted lifestyles. Luxury amenities, especially those focused on convenience, health and wellness and entertainment, help lure potential residents and are driving the demand for modernization in multifamily housing.
Designing and executing luxury amenities such as boutique fitness studios, on-site pet daycare, pet grooming services, rooftop decks, community events and much more, help to knock the socks off a prospective tenant and play a big role in someone's decision making process.
For example, The Jasper, The Beach Co.'s mixed-use building in Charleston, S.C., offers luxury residential amenities such as cafes and restaurants, state-of-the-art health and wellness studios, private wine lockers, a pet park with an agilities course, a pet spa for easy pet washing and drying, electric car charging stations and an abundance of parking — all set in a prime downtown location. Residents also have access to a one-acre amenity deck with a premiere rooftop pool and lounge, demonstration kitchen, lounge area for sports and movie watching and more. On top of that, The Jasper's office tenants have access to the property's rooftop amenity deck and garden, a corporate wine cellar and a club room equipped with a private lounge and demonstration kitchen.

Dan Doyle is Senior Vice President of Development & COO at The Beach Company. Founded in 1945, The Beach Company has been a leader in residential and commercial real estate brokerage, development and property management for 75 years. Led by CEO John Darby, The Beach Company upholds a tradition of establishing landmark properties and communities by evaluating each development opportunity for its potential to improve the quality of life for its neighbors and contribute to the long-term economic vitality of the Southeast region.
https://thebeachcompany.com/