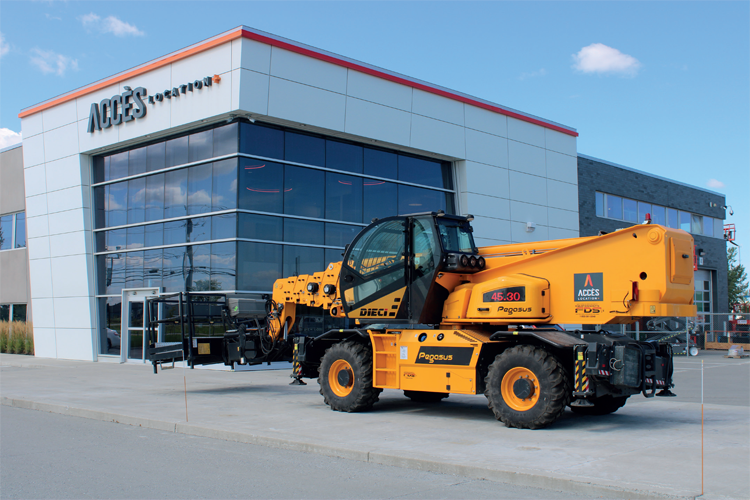 A head for heights
A specialist in the sales and rentals of aerial equipment and associated products, Accès Location + is driven by its mission to surpass expectations through the quality of its actions
It was in 2004 that Harold Dubé made the decision to establish Accès Location + in Beloeil, Quebec. Beginning life with a handful of aerial lift machines, the business quickly experienced a growing demand for its services, leading to the acquisition of a greater number of machines and an increased focus on the sales and rental of high lift equipment including scissor lifts, articulating and straight boom lifts, forklifts, telehandlers, and rotary telehandlers.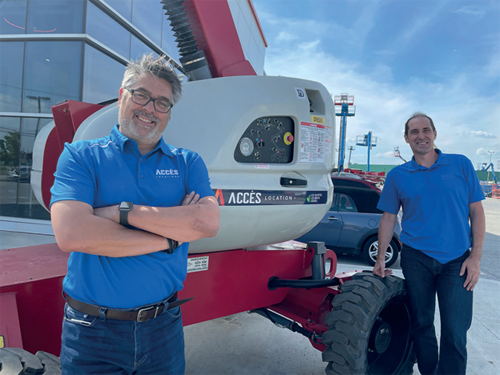 Faced with the above mentioned rapid growth, the company moved into new premises in 2017. Four years on, its 33,000-square foot state-of-the-art headquarters and 232,000-square feet of land, located on the edge of a major highway in the metropolitan area, continues to contribute to the company's visibility and development.
Two years after it was formed, Luc Bertrand would join the Accès Location + team, initially as a rental representative. He would soon take on more responsibilities, becoming a shareholder and Vice President in 2012, and eventually President of the company in 2018. "Accès Location + is proud of its track record, and of being among the best managed companies in Canada," Luc tells Construction Today. "We are a leader in the Greater Montreal area and now have branches to serve our customers on Montreal's South Shore, North Shore, and in Quebec City."
As of the summer of 2021, the company boasts an impressive fleet of high-quality equipment, totaling more than 1200 lifts. For Luc, its success is due to the exceptional work of his team members. "At Accès Location +, we are one big family," he proudly states. "Our professionals are dynamic, consistently offer exceptional service, and are not afraid to take on new challenges. It is thanks to them that we have experienced accelerated growth over the last few years, and it's heartening to know that today the Accès Location + team is made up of nearly 70 people who are truly passionate about heights."
What also makes the business stand out amongst its peers is its large selection of specialized quality equipment from recognized brands, such as Skyjack, JLG, Genie, MEC, and Dieci. Accès Location + has the youngest fleet in its industry – with an average age of 36 months – while its personalized service has helped to build customer loyalty, and an unmatched reputation in the rental industry. Accès Location + regularly acquires new products and specialized accessories to facilitate the work of its customers. It has the largest range of Ultra Boom Lifts in Quebec, including aerial work platforms of over 100 feet tall. Meanwhile, equipment acquired more recently typically comes equipped with telematics tools that allow for remote diagnosis and geolocation of the equipment.
"Our facilities are at the cutting edge of technology when it comes to the inspection, maintenance, and repair of equipment," Luc adds. "They have been designed to maximize the productivity and comfort of our mechanics, while the latest tools, machines and programs are available to all of our employees, in order to facilitate their work and deliver increased efficiency."
To improve and enhance its outstanding customer service, Accès Location + has also recently launched its customer portal. This virtual platform provides a more complete experience for the needs of its growing clientele, and is one of the first advances of its kind in the equipment rental sector. "The online customer portal was developed over the course of several months in collaboration with Orion Software, creating a virtual customer space which meets several needs of our clientele," explains François Garon, Director of Operations at Accès Location +. "In addition to managing their rental contracts, customers can schedule an equipment rental return directly on the virtual platform, as well as make requests for maintenance from their job site.
"Further to this, access to order history is always available, as is the ability to generate relevant reports of transactions made. This new technological support allows greater autonomy to companies in terms of accessibility of their data and offers additional interesting tools to facilitate their accounting. This is a major innovation in the industry, an interface that was custom designed according to the requirements of our clientele, tested and approved by a pool of targeted users."
Equally as vital to the company's success as its equipment and programs, are its people and its relationships with suppliers. "Corporate culture forms a core part of our DNA here at Accès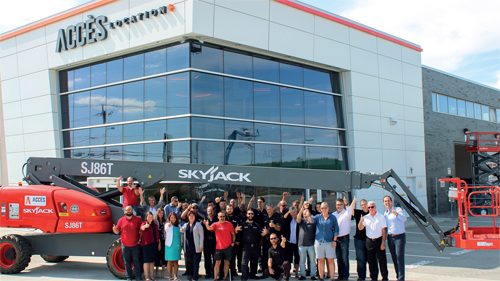 Location +, and our people are always placed at the heart of our priorities," Luc enthuses, noting that said culture has earned the company a Bonboss certification; recognition that underlines good management, fulfilled employees, and a healthy working environment. "As well as regularly highlighting and rewarding our people's work through employee recognition schemes, we also provide access to wellness areas such a gym, yoga room, games rooms, and various social activities, all of which provide opportunities to build solid ties between individuals or teams, and create a strong sense of belonging. We consider ourselves to be one big family, and we know that an employee who is happy, appreciated and feels like a valued member of that family will want to invest more back into the business."
Meanwhile, on the subject of its suppliers, Accès Location + has worked exceptionally hard over the last 20-plus years to develop relationships based on mutual trust and satisfaction. "With the volume of purchases increasing significantly – we have invested nearly $75 million in new equipment over the last five years alone – our suppliers have only risen in importance, keeping us informed of new products and market trends, and playing an invaluable role in the company's ongoing growth," Luc confirms.
The growth that Luc alludes to has come in spite of the effects of the Covid-19 pandemic. "At the onset of the pandemic, we actually took advantage of the forced shutdown period to develop new projects, for which the entire management team of Accès Location + was mobilized. This resulted in, among other things, the planning of new acquisitions," Luc highlights. "The company also focused on the optimization of numerous internal projects, such as the redesign of documents, the development of technological tools, and a training program for members of the management committee. These projects and initiatives have helped us to recover from the shutdown, and become better prepared to reach our long-term objectives."
One long-term mission for the business is to adopt ever-more sustainable practices as part of its ambition to significantly reduce its environmental footprint. These efforts are companywide, and extend all the way down to small daily gestures, such as the use of reusable bottles, the reduction of printed paper, and the establishment of a community garden.
A recent action of note has also been the company's decision to replace the 12 vehicles used by its representatives with brand new Ford Mach-E's. "We actually offer a $1000 subsidy for employees of Accès Location + who wish to purchase an electric vehicle, and have installed recharging stations at our Beloeil, Laval, and Quebec City branches that they can use for free," Luc points out.
As it continues to grow and be a leader in its industry in Quebec, Accès Location + understandably wants to leverage this momentum, while also remaining several steps ahead of its competition by relying on a combination of good business practices, its sense of innovation, and its ability to make key decisions quickly. Among its many aims for the coming years, the company intends to build its fleet up to 2000 machines by 2025, and continue to offer its customers reliable equipment and a world-class level of service.
One final topic that Luc is keen to address is the company's commitment and contributions to wider society. "We support a number of causes, particularly those that involve children's health and people in need," he says. "As well as supporting several local organizations,
Accès Location + is proud to be a member of Entreprise Enfant Soleil, and to support ambitious projects to provide care and services to sick children and their families. This social involvement is part of the company's values and members of our team willingly adhere to it by volunteering for various fundraising activities What this all comes back to is my belief that a successful company must give back to society, and we try to create several new initiatives each year that allow us to make a difference in the community."
Accès Location +
www.acceslocation.com
Services: Aerial equipment sales and rentals