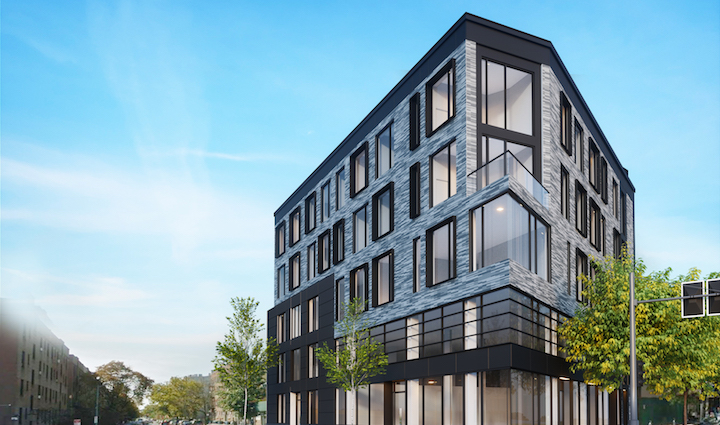 AB Capstone grows with its transit-oriented developments in New York.
AB Capstone is a vertically integrated real estate company that develops, builds and manages properties throughout the Queens, Brooklyn and Bronx boroughs of New York City. On the commercial side, the company builds retail, office and community facilities such as medical center and daycare centers. Residentially, AB Capstone constructs buildings of 50 or more units that run the gamut from affordable housing to middle income to luxury housing.
Meir Babaev, who previously worked in real estate development, founded AB Capstone in 2011, a few years into the Great Recession. "We saw an opportunity in the boroughs where development came to a halt in 2009 or 2010," Babaev recalls. "We felt once the market turned around, there would be a significant increase in the number of projects. So, we jumped into the construction end of the business."
Today, AB Capstone specializes in transit-oriented developments. "Most of the projects we do are transit oriented in heavily populated and pedestrian-traversed areas," Babaev says. "Our expertise has been to build near subway lines and busy walkways and streets."
The company has completed projects grossing 1.5 million square feet. A transit-oriented development that Babaev is pleased with is the Ridgewood project located near a busy subway stop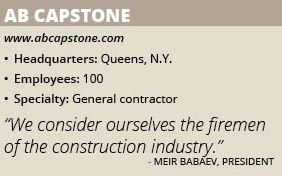 on the border of Queens and Brooklyn. It will be a 17-story, 250,000-square-foot building with 138 apartments and 105,000 square feet of retail and commercial space.
It took AB Capstone four or five years to assemble the property. The company broke ground in January and anticipates completion sometime in 2021. "It's a beautiful project," Babaev says. "It will have a curtain wall glass façade, pool, nine-hole mini golf, outdoor theater, food and beverage service on the roof, children's daycare and outdoor cabanas."
Advance Consideration
To distinguish itself in the competitive New York City market, AB Capstone must do two things very well, Babaev explains. "Our expertise is to do these developments at cost or below cost and on time," he says.
It's not always easy to hit both of those goals. "It's always challenging in New York," Babaev says. "We consider ourselves the firemen of the construction industry. If something comes up, in 24 hours we try to solve it. We have a very strong team making sure projects are running smoothly and on schedule. We have a very strong procurement team that buys these properties. We work with locally sourced contractors and vendors who are community-based as much as we can."
Besides the competition, New York is not an easy place for development and construction. "We think the environment in New York is challenging due to the bureaucratic system we have in place and the regulations we have in place, which are stringent," Babaev says.
For example, getting the paperwork from New York utilities to knock down a building can be a months-long process, Babaev says. "It's just what we have to go through, which takes time and effort," he says. "Also, we have the most stringent insurance requirements, more than the other 49 states."
And then there is the cost of doing business. "Insurance costs are higher, labor costs are higher, material costs are higher and land costs are higher," Babaev says. "Everything is higher in New York. It's hard to control the back-end for the renters due to the cost of building a project in New York."
AB Capstone responds to those challenges by carefully considering its projects in advance. "You have to strategically plan and locate the right tenant," Babaev says. "You make sure you can build a viable project by using the most efficient method."
The most efficient delivery method, he says, is design/build, which helps AB Capstone reduce risk and costs. "You are kind of building as you go," Babaev says. "It saves money by cutting unnecessary fat out of our projects."
One place where AB Capstone refuses to compromise on cost is in making its projects energy efficient. It does that by using slow-flow drains, argon-gas filled windows and white Firestone EPDM roofs. "We do whatever we can to build environmentally friendly sites," Babaev says. "We think it's the right thing to do although it's more expensive that way."
Busy and Growing
With the national unemployment rate still at historic lows, finding quality employees is hard. "There's not that many in the workplace," Babaev says. "The ones who are have steady work. We hire and teach on the job a lot."
And while there are "hundreds of subcontractors with hundreds of employees, a lot of them are busy," Babaev says. "We have to coordinate our project schedules to make sure they are getting off one job and then starting the next."
AB Capstone works to make sure its field workers are safe on the jobsites.
"We have whole-site safety meetings and a full-time safety manager," Babaev says. "We have safety training classes, safety manuals and safety reports. We take safety very seriously."
AB Capstone has 10 ongoing projects at the moment. "We're as busy as we have ever been and growing," Babaev says. "We are adding new people and projects."
Babaev is proud of AB Capstone's ability to accomplish what it says it will. "We get the job done," he says. "We go through all the hurdles of the project and then we move onto the next one. We are very proud we have a strong team to help us realize our goals of building and growing across the New York City area. We have plans to continue developing and building all over the boroughs. We look forward to seeing what other unique, creative projects we can do."