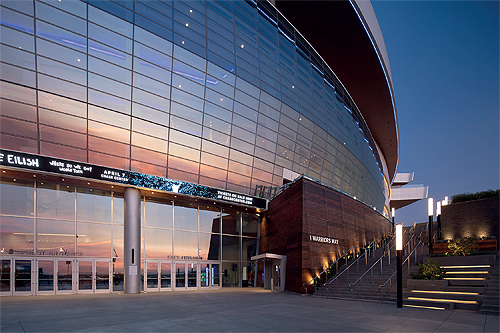 A façade fit for a warrior
A well-planned arena offers so much to a community beyond access to sporting events. It also serves as a music venue, supports local vendors and artists, creates jobs, provides social spaces and draws in tourists in turn supporting local businesses. So, when the Golden State Warriors looked to move to San Francisco from their previous home venue in Oakland, ensuring smooth integration within the Mission Bay locale was a top priority.
While the team was based in San Francisco for a brief stint in the 1960s, the city they were returning to was much changed. Mission Bay is a modern neighborhood, characterized by large, hard-edged buildings the size of city blocks, creating a dense urban environment.
When David Manica, lead designer and architect at Manica Architecture, was brought on the project, the brief from the city and the Warriors was clear: the building needed to be sympathetic to and in contrast with the area. It had to be simultaneously futuristic and timeless in its aesthetic. Crucially, the client also wanted a 360° design with no back entrance or rear façade. This way, the arena would feel inviting from every angle.
Material world
The base of the building would be especially visible to the public, so it was important for it to be not only warm and pleasing to the eye, but also able to withstand impact and potential vandalism. The client was adamantly against using concrete, so David went in search of a different material and found Neolith®.
With the help of distributing partner, Evolv Surfaces, patinated Iron Corten was specified around much of the Chase Center's base, boasting bold, deep orange tones with plenty of embodied personality. To suit the project's specific needs, Neolith customized the pattern, providing three variants in addition to the standard slab.
He explained: "I'm very happy with our decision. It looks wonderful from different distances. From far away, you catch the warmth and texture of the stone panels, then, as you approach them, it gets even more interesting as you see more detail and how crisp the joints are."
David visited the Neolith factory in Castellón to find out more about its qualities and how it's manufactured. He continued: "When we went to the factory, I was so impressed with the material's durability. If it's spray-painted, it's easily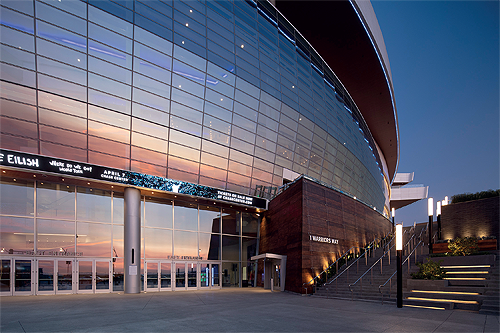 cleaned. If you take a screwdriver to it, it's virtually impossible to damage or scratch. It was everything I wanted it to be, with the added benefit of being really beautiful to look at."
Along with the use of PURETi, a special, photocatalytic treatment, the Neolith slabs break down greenhouse gases into harmless substances which can be easily and safely removed, contributing to the building's overall sustainability credentials. The façade is cladded in 15,500 square feet of Neolith. With the special finish, this is equivalent to taking over 1,400 fossil fueled cars off the road, or planting 360 trees.
Alongside these client's requirements, David wanted the new venue to be appropriate for its waterfront situation. This is what drove his search for particular materials which would reflect the nautical history of the bay. A good example of this is to be found in the arena's white metal cladding, reminiscent of the clean, modern lines of sails. With an all-encompassing design, it's as if the building is spiraling in the same wind that powers boats on the water.
In contrast, the building's interiors are specified in a much warmer palette. By incorporating Neolith Iron Corten, David was able to hint at what lies within, creating the illusion of the white exterior peeling away in places by including soffits and cladding in darker colors.
What goes around
While materials were selected to be sympathetic to the area's architecture, it was also important for the design to provide some contrast to Mission Bay's linear, blocky aesthetic. David and his team opted for a round building, as opposed to the predominantly cuboid nature of the neighborhood's buildings. By employing seamless curves throughout the large venue, they were able to soften some of the locality's rigid aesthetic.
Complementing this, Manica Architecture worked carefully with the city and the Warriors to ensure the surrounding space was subtle and inviting as well. Public walkways and plazas around the arena are open all year round, an asset for the local community.
For such a large project, David found working with city planners a valuable resource. Weekly meetings with city officials and the site owners provided insight into everyone's desires for the end product simultaneously. By finding common ground between them, David was able to push the project forward successfully.
He commented: "The real highlight is seeing the client happy on opening day or at the first game, hearing the crowd roar, getting excited about the building as a whole. It's really why I do what I do, being part of history in the making."
Speaking on both the work carried out by Manica Architecture and Evolv's involvement, James Amendola, Neolith's VP of North America, said: "We are thrilled to have been selected for what can only really be described as a landmark project, and to have worked with such a talented and much sought-after design firm. We also continue to be impressed by our distributing partner, Evolv, without whom Neolith's inclusion in this project would not have been possible. They truly went above and beyond to provide all the necessary material and ensure the process was a smooth one, and we are thankful for their assistance throughout."
Mar Esteve Cortes, Chief Marketing Officer at Neolith, added: "As soon as the stadium re-opens, we know that the Golden State Warriors and all of its fans will have their time to shine and celebrate many victories in this beautiful arena. Chase Center serves as a symbol of perseverance, happiness and comradery, and we are both honor.
Founded in 2009, Neolith, the market-leading brand of Sintered Stone, is a revolutionary product category which has become a material of choice for architects, designers, specifiers and fabricators.
This pioneering material can be specified for the most demanding interior and exterior building projects. Combining high-definition detailed decoration with high-performance qualities, Neolith offers the triple reassurance of strength, beauty and longevity.
www.neolith.com